GDM Series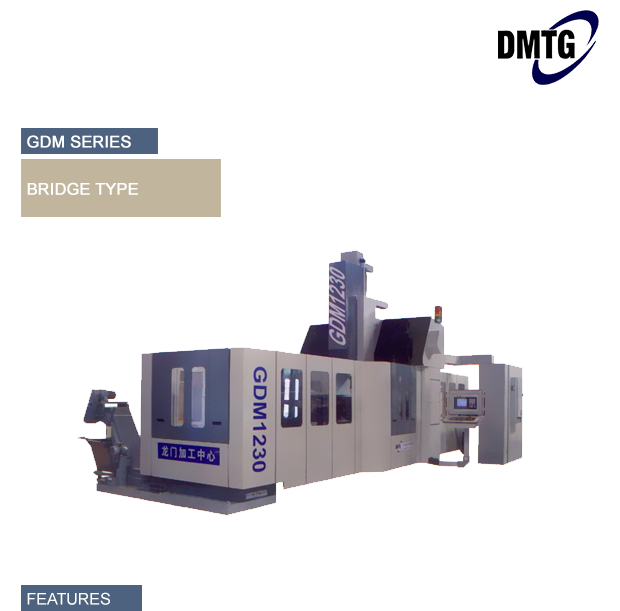 GDM Series gantry type machining center is a new generation with portal fixed and table moving. Adopting a modularized design, changeable worktable and spindle(5-face machining of special spindle) can manual and automatic change according to customers' requirements. This machine can be applied to parts of rough and finish machining, large and medium size, mould and shape of plate,disc,shell,chest or curve surfacing as well.

GDM series have high working performance with suitable specifications, which are  high reliability, high precision and high rigidity.

GDM gantry type machining center adopts a configuration design of fixed portal frame, combined with a moving table on X-axis, so integrate a large space and maximum rigidity. The Z-axis "spindle" is designed to move out of table to widen machining range.

Fanuc 18i CNC control

Rigid taping

Spindle positioning with outer encoder

Spindle blowing devices

Foot switch for loose and tight tool

Air-condition for electrical cabinet

Balancing device for ram

X/Y axis guide protection

Feedback for 3-axis encoder

Microwave Pulse Generator (MPG)

Cutting fluid circulation system

Working and waring lamp

Double chain chip conveyor

Cleaning water gun

Half protection for working table

Automatic lubrication system for guide
Items
GDM-1220
GDM-1230
GDM-1240
GDM-1321
GDM-1326
GDM-1820
GDM-1830
Workable
Table size
1250 x 2000 mm
1250 x 3000 mm
1250 x 4000 mm
1300 x 2100 mm
1300 x 2600 mm
1800 x 2000 mm
1800 x 3000 mm
Distance between two columns
1450 mm
1450 mm
1450 mm
1700 mm
1700 mm
2200 mm
2200 mm
Max. load capcity
3000 kg
5000 kg
7000 kg
6000 kg
7000 kg
6000 kg
8000 kg
Width of T-slot
22/H12 mm
22/H12 mm
22/H12 mm
7-22/H12 mm
7-22/H12 mm
9-22/H12 mm
9-22/H12 mm

Machining Capacity

Table travel (X axis)
2200 mm
3200 mm
4200 mm
2000 mm
2500 mm
2200 mm
3000 mm
Saddle travel (Y axis)
1250 mm
1250 mm
1250 mm
1700 mm
1700 mm
2500 mm
2500 mm
Ram travel (Z axis)
750 mm
750 mm
750 mm
800 mm
800 mm
1000 mm
1000 mm
Distance between spindle and table surface (Max./Min.)
950/200 mm
950/200 mm
950/200 mm
1000/200 mm
1000/200 mm
1200/200 mm
1200/200mm

Spindle

Spindle taper
BT-50
BT-50
BT-50
BT-50
BT-50
BT-50
BT-50
Speed range of spindle
40-6000 rpm
40-6000 rpm
40-6000 rpm
40-6000 rpm
40-6000 rpm
40-6000 rpm
40-6000 rpm
Max. output torque
560 Nm
560 Nm
560 Nm
560 Nm
560 Nm
560 Nm
560 Nm
Main motor power
18.5/22mm
18.5/22mm
18.5/22mm
18.5/22mm
18.5/22mm
18.5/22mm
18.5/22mm
Feeding
Max. cutting feed
1-10 m/min
1-10 m/min
1-10 m/min
1-8 m/min
1-8 m/min
1-6 m/min
1-6 m/min
X/Y/Z axis rapid travel speed
20/20/16 m/min
20/20/16 m/min
20/20/16 m/min
24/24/24 m/min
24/24/24 m/min
12/12/10 m/min
12/12/10 m/min
Positioning accuracy
X axis (with raster scale)
0.026(0.020) mm
0.030(0.020) mm
0.040(0.025) mm
0.040(0.020) mm
0.035(0.020) mm
0.035(0.020) mm
0.035(0.020) mm
Y axis (with raster scale)
0.020(0.010) mm
0.020(0.010) mm
0.020(0.010) mm
0.026(0.020) mm
0.026(0.020) mm
0.026(0.020) mm
0.026(0.020) mm
Z axis (with raster scale)
0.015(0.010) mm
0.015(0.010) mm
0.015(0.010) mm
0.015(0.010) mm
0.015(0.010) mm
0.015(0.010) mm
0.015(0.010) mm
Repeatability accuacy
X axis (with raster scale)
0.018(0.012) mm
0.018(0.012) mm
0.026(0.012) mm
0.026(0.016) mm
0.022(0.014) mm
0.022(0.014) mm
0.022(0.014) mm
Y axis (with raster scale)
0.012(0.006) mm
0.012(0.006) mm
0.012(0.012) mm
0.016(0.012) mm
0.016(0.012) mm
0.016(0.012) mm
0.016(0.006) mm
Z axis (with raster scale)
0.010(0.006) mm
0.010(0.006) mm
0.010(0.006) mm
0.010(0.006) mm
0.010(0.006) mm
0.010(0.006) mm
0.010(0.006) mm
ATC
Magazine Capacity
32;40;50;60 pcs
32;40;50;60 pcs
32;40;50;60 pcs
32;40;50;60 pcs
32;40;50;60 pcs
32;40;50;60 pcs
32;40;50;60 pcs
Max. tool length
400 mm
400 mm
400 mm
400 mm
400 mm
400 mm
400 mm
Max. tool weight
25 Kg
25 Kg
25 Kg
25 Kg
25 Kg
25 Kg
25 Kg
Max. tool diameter
125/250 mm
125/250
125/250
125/250
125/250
125/250
125/250
Net weight
28000 Kg
33000 Kg
40000 Kg
23500 Kg
26500 Kg
23000 Kg
29000 Kg